Tropical Plant Database - Plant Details
Artemisia australis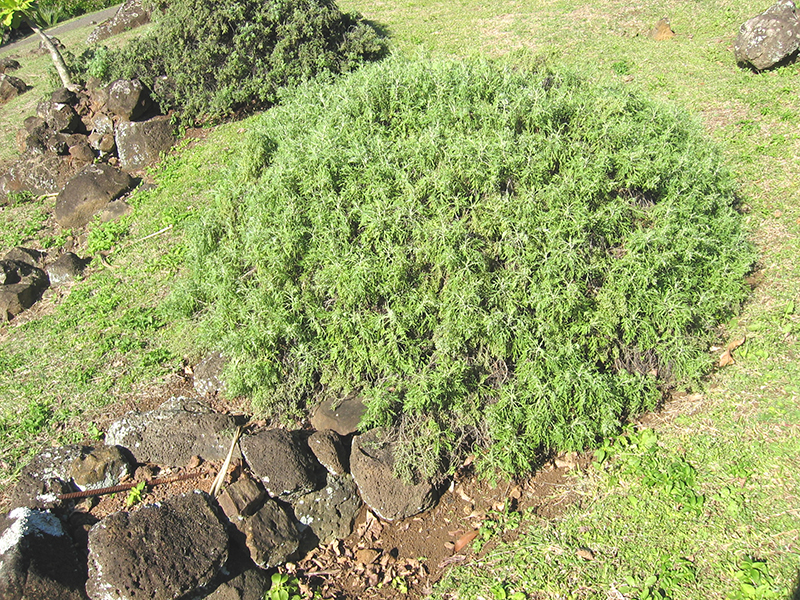 Click on any heading above to view more information about this plant
Conservation Status
IUCN:

not evaluated

USFWS:

None
Family: ASTERACEAE
Genus: Artemisia
Species: australis
Species Author: Less.
Vernacular: Ahinahina, hinahina, hinahina kuahiwi
Synonyms: See Wagner for complete list

Artemisia australis is a small shrub, generally growing 4 to 5 feet tall. The aromatic, feathery leaves are finely divided into linear segments. They are gray-green to silvery, especially on the undersides, and can be slightly fuzzy. The small yellow flowers are borne in dense clusters on leafless heads only slightly above the top leaves. The seeds are small.
(Wagner, Warren L., Darrel R. Herbst, and S. H. Sohmer. 1990. Manual of the flowering plants of Hawai'i.)
Hawaiians used the flowers and seeds for leis. They are a good choice for borders or rock gardens and are well suited for coastal gardens.


Artemisia australis is a Hawaiian endemic plant. It is native to all the main Hawaiian islands and is usually found on exposed windward cliff faces. It occurs at elevations up to 3,500 feet.
(Wagner, Warren L., Darrel R. Herbst, and S. H. Sohmer. 1990. Manual of the flowering plants of Hawai'i.)
We currently have 55 herbarium specimens for Artemisia australis in our collection. Click on any specimen below to view the herbarium sheet data.