Tropical Plant Database - Plant Details
Microlepia strigosa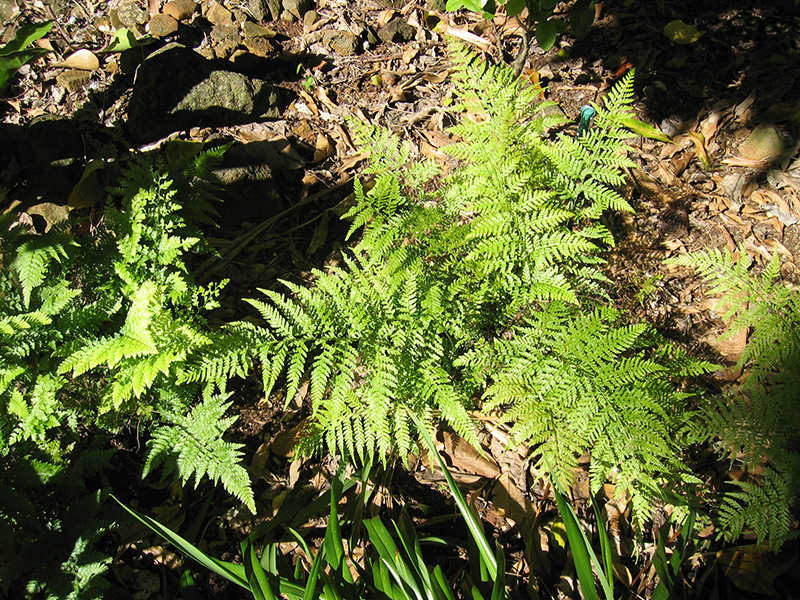 Click on any heading above to view more information about this plant
Conservation Status
IUCN:

not evaluated

USFWS:

None
Family: DENNSTAEDTIACEAE
Genus: Microlepia
Species: strigosa
Species Author: (Thunb.) C. Presl

Microlepia strigosa is a terrestrial fern that can reach 3' in height (approx. 70cm) and 6' in width. The fronds of the Lace Fern are small delicate and lacy in appearance and have an arching growth habit. A charming fern, with glossy, dark green, slightly hairy pinnate fronds forming symmetrical rosettes. Old fronds lay flat on the ground when new fronds, pushing out from crown, form a narrow circle of bronzy tomentose leaves with pendant tips in late winter.
Very nice when used with early blooming azaleas, which bloom when the new fronds are produced. Also good in containers. One of the most formal ferns.

In Hawaii, the Palapalai ferns were used by ancient Hawaiians to decorate hula alters to Laka, the hula goddess. Today the ferns are a favorite to use for lei making and can appear alone or in combination with other flowers.

(Information for this species compiled and recorded by Camelia Cirnaru, NTBG Consultant.)

Lace Fern is native to the Asia-Pacific region right through the Tropics to the temperate climates, from North India to Japan and Polynesia.
The Palapalai fern can be found growing in the more shady and wet areas of Big Island of Hawaii. You can find Palapalai growing all over, but excellent examples can be found up in the Hawai'i Volcanoes National Park, in the wetter areas of the park.

We currently have 33 herbarium specimens for Microlepia strigosa in our collection. Click on any specimen below to view the herbarium sheet data.